---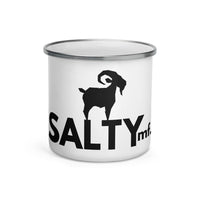 Let us face it everyone is a Coffee Addict! We slurp coffee all day every day. This mug is great for dragging it camping, drive to work, sitting behind the life sucking computer all day etc. And when life gets too much put a little whiskey in the thing and be the saltymf you are. Do not hide it we know!

• Material: Enamel
• Dimensions: height 3.14″ (8 cm), diameter 3.25″(8.25 cm)
• White coating with a silver rim
• Hand-wash only

Attention! Don't heat liquids or food directly in the mug—it can damage the coating.